28th ANNUAL OVERCOMING THE ODDS AWARDS CELEBRATION
Join us for our 27th Annual Overcoming the Odds Awards Ceremony
If you are experiencing any difficulties with donating or help with sponsorships, please contact a staff member below and they will help you.
Diane Rosenthal – drosenthal@studentadvocacy.net
Jamie Stone – jstone@studentadvocacy.net
Student Advocacy is a non-profit corporation under section 501 (c) (3) of the IRS Code. Our Federal Tax ID Number is 13-3104476.
All gifts are tax deductible to the full extent of the law.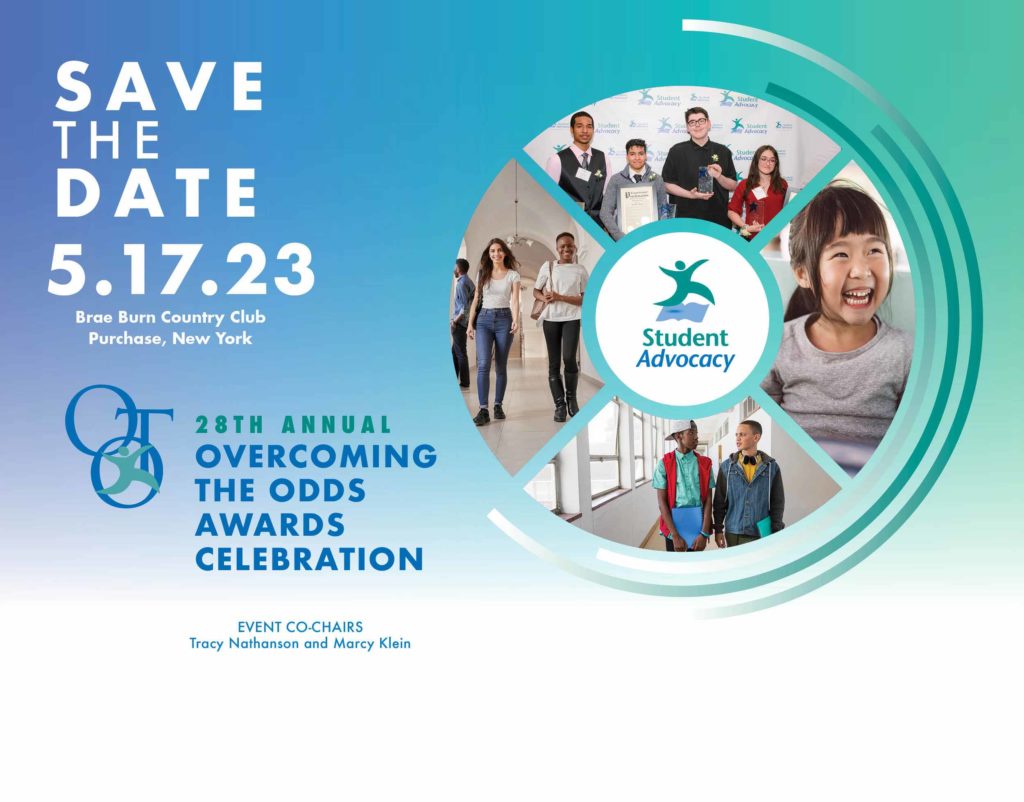 Sponsorship Opportunities
2 tables of 10 guests each in premium location or virtual experience for 20
Workshop series on educational rights presented in name of sponsor for 1 year
Option for quote from corporate leadership or individual sponsor in press release
Full page platinum ad in event journal
Recognition from podium
Most prominent logo/name placement on website registration page, event screens, electronic communication, and social media
2 tables of 8 guests each in premium location or virtual experience for 16
Individual sponsor or corporate name in press release
Full page gold ad in event journal
Recognition from podium
Prominent logo/name placement on website registration page, event screens, electronic communication, and social media
1 table of 10 guests in preferred location or virtual experience for 10
Individual sponsor or corporate name in press release
Full page silver ad in event journal
Recognition from podium
Logo/name recognition on website registration page, event screens, electronic communication, and social media
6 guests – in person or virtual experience
Full page bronze ad in event journal
Logo/name recognition on website registration page, event .screens, electronic communication, and social media
4 guests – in person or virtual experience
Half page ad in event journal
Logo/name recognition on website registration page, event screens, electronic communication, and social media
2 guests – in person or virtual experience
Quarter page ad in event journal
Logo name recognition on website registration page, event screens, electronic communication, and social media